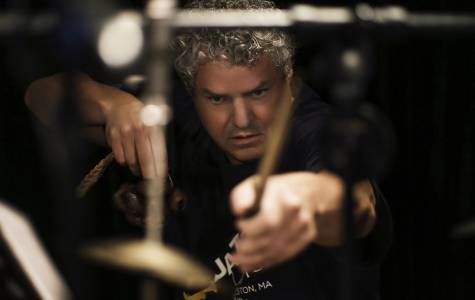 Jerry Leake
Berklee College of Music; New England Conservatory
Harmonic Time Rhythm
Jerry Leake is a Professor of World Percussion at Berklee College of Music and the New England Conservatory. He leads the world-rock-fusion band Cubist whose CDs feature his skill as a composer, arranger, and performer. He is a co-founder of the Indo/Jazz band Natraj and the dub/trance/groove collective Club d'Elf.
Jerry graduated from the Berklee College of Music where he studied jazz vibraphone with Gary Burton and Ed Saindon, and hand percussion with Pablo Landrum. He studied tabla in Pune, India with Rajeev Devasthali, and in Boston with Todd Nardin and Koashal Anand. Additional knowledge has been gained through his close association with sarod master and scholar, George Ruckert, and renowned sitarist, Peter Row.
In Chennai, India, Jerry studied Carnatic rhythm theory and mridangam with T. K. Ramakrishnan. He studied African music with Alhaji Dolsi-Naa Abubakari Luna of the Dagomba tradition (northern Ghana) and the Ewe music of southern Ghana with David Locke (Tufts), Godwin Agbeli and his sons (Ghana), and balafon/djembe with the Coulibaly family in Burkina Faso.
Jerry is former president of the Massachusetts Chapter of the Percussive Arts Society and was a composer and member of the Portland Symphony Kinder Koncert percussion ensemble from 1984–2010. His Harmonic Time rhythm method was featured in a 2011 TEDx talk.
Jerry has written eight widely used texts on world percussion, and rhythm theory, numerous articles for PAS magazine, and manuals for adapting African and Indian concepts to drum set: https://www.rhombuspublishing.com
---
Teaching Dates: July 11 - 28, 2023