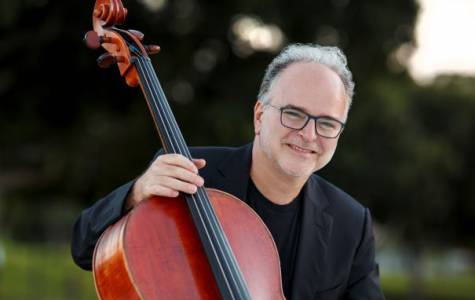 Zvi Plesser
Jerusalem Academy of Music and Dance
Israeli cellist Zvi Plesser enjoys a wide-ranging career as a soloist, chamber music performer, educator and music director. He has been on the world stage for more than 30 years playing, teaching and promoting music in varied settings, from the most prestigious halls to community settings, with equal devotion and excitement.
As a soloist, Mr. Plesser plays regularly in his home country with all the orchestras. Since his debut with the Israel Philharmonic under Maestro Asher Fisch, he has regularly performed with The Jerusalem Symphony Orchestra, Israel Symphony Orchestra, and Jerusalem Camerata, including a tour to Australia and Bangkok, Israel Chamber Orchestra, Haifa Symphony and more. Highlites of 21-22 season include – Bardanashvilli "Dialogues" with the Jerusalem Symphony Orchestra and Ariel Zuckerman, Gulda Cello Concerto with Israel Symphony Orchestra with Rotem Nir, Haydn Cello Concerto with Jerusalem Camerata and Paul Goodwin, as well as with Israel Sinfonietta Beer Sheva with Noam Aviel. On the world stage, he has performed with such orchestras as – Berlin Philharmonic Orchestra, Saint Martin in the Fields, the National Symphony Orchestra in Washington DC, Mexico National Symphony, Shanghai Philharmonic, Hamburg Symphony Orchestra, to name a few, under conductors such as – Zubin Mehta, Sir Neville Merriner, Sergiu Comissiona, Karl Heinz Steffens, Steven Sloan, Duncan Ward, Omer Meir Welber and many more.
Mr. Plesser devotes much of his time to chamber music. He has played in various chamber music groups throughout the years, the Huberman Quartet and Concertante Chamber Ensemble. In past seasons he has performed in some of the world's leading stages such as Paris Champs-Elysees, Musee du Louvre and Salle Pleyel, Vienna Konzerthouse, Berlin Philharmonie, Carnegie Hallin New York, London Wigmore Hall and Southbank Centre among others. He is frequently invited to music festivals around the world, including Marlboro Festival, Four Seasons Festival, Mayfest in the US, Utrecht International Music Festival, Rolandseck, Kuhmo Festival, ClasClas and Salon de Provence in Europe as well as Le Point in Japan, the Jerusalem International Chamber Music Festival and many more. In the years 2011 - 2021, he served as music director for the" Voice of Music in the Upper Galilee, festival Israel's oldest chamber music festival. Mr. Plesser revitalized the festival by introducing innovative programs that gained the attention of both the audience and the press. In 2022 he founded, together with his friend violinist Guy Braunstein, the Elma Music Days festival.
Mr. Plesser is a graduate of the Juilliard School, where he studied with Zara Nelsova. His principal teachers include Zvi Harel in Israel and David Soyer in the United States. Mr. Plesser is a professor at the Jerusalem Academy of Music, where he served as head of the strings department as well as director of the Nazaryan chamber music program. He has also taught at the North Carolina School of the Arts and the Hochschule für Musik in Würzburg, Germany. He is frequently invited to give masterclasses and workshops in musical centers around the world. Mr. Plesser is on the faculty of the Perlman Music Program since 2017, where he teaches twice a year in the summer "Littles" program as well as the Sarasota residency. For the last few years, he has also taught at the Morningside Musical Bridge summer program in Boston.
Mr. Plesser has been heard on various radio and television programs and has recorded for Helicon, Kleos, Meridian, Naxos, Alpha and more. A graduate of the Jerusalem Music Center as part of the program for Outstanding Young Musicians headed by Maestro Isaac Stern, Mr. Plesser won the prestigious Francoise Shapira Competition, the 41st annual Washington International Competition and was the recipient of the America-Israel Cultural Foundation Scholarships.

Photo credit: Michael Fabia
---
Teaching Dates: July 22 to 26, 2024