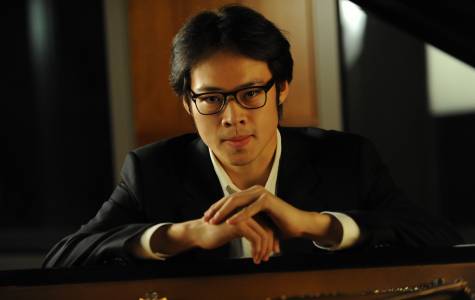 Chu Yue
The Music Middle School Affiliated to Shanghai Conservatory of Music
MMB Alumnus
Born in China, pianist Yue Chu received his earlier music training with Yun-Xian Chen in Tianjin, Jin Zhang and Yuan Wu at the Central Conservatory of Music Middle School in Beijing. Joined the Morningside Music Bridge as a student for the first time in 2000, Chu moved to North America and continued to explore with his passion in music.
Chu's career accelerated after he won first prizes in the 2011 Heida Hermanns International Piano Competition and the 2012 Wideman International Piano Competition. As a soloist, he has appeared under the baton of Sir Simon Rattle, Yannick Nézet-Séguin, Robert Spano, David Loebel, to name a few, toured and performed with orchestras like the NEC Symphony Orchestra, the Cape Cod Symphony Orchestra, Philadelphia Symphony Orchestra, Tianjin Symphony Orchestra, the Northwest Florida Symphony Orchestra, the Shreveport Symphony Orchestra, the South Arkansas Symphony Orchestra and Curtis Symphony Orchestra. He has appeared in recitals at prestigious venues including Lincoln Center, Jordan Hall, numerous international music festivals including Bösendorfer USASU International Piano Competition and Festival, the Van Cliburn International Piano Competition and Music Festival, Morningside Music Bridge, Perlman Music Academy, Curtis Summer Academy, Dresden Music Festival and Ravinia Music Festival, as well as in concert series at the Philips Collection, the Dame Myra Hess series, the Belz-Parker Artists Ascending Concert Series, the Shigeru Kawai Concert Series, Tempo Primo Artists Series, Foundation for Chinese Performing Arts Concert Series and the Louvre Music Series. As a collaborative artist, Chu performed with a variety of renowned chamber ensembles and artists, including the Borromeo String Quartet, the Parker String Quartet, the Far Cry, the Eighth Blackbird, Zuill Bailey, Na Mula, Roberto Diaz and Itzhak Perlman, among many others.
Dedicated to share music and music education, Chu started his lecture and seminar projects in Asia, Europe, and United States since 2012. Also, he was the artistic director of the 2015 Namei International Music Festival (New York), piano faculty of the 2016 Morningside Music Bridge (Beijing), director and piano faculty of the 2017 West Lake International Youth Music Festival (Hangzhou), director and piano faculty of the 2019 Universal Artists Festival (Boston). An honorary member of MCNY since 2014, and a Primo Muzik Artist since 2019, Chu was appointed as a member of the piano faculty at the Music Middle School Affiliated to Shanghai Conservatory of Music in 2023.
Chu's musical education including the Central Conservatory of Music Middle School (Beijing) with Yuan Wu, the Conservatory Music Academy at Mount Royal University (Calgary) with Hung-Kuan Chen, the New England Conservatory of Music (Boston) under the guidance of both Russell Sherman and Wha Kyung Byun, the Curtis Institute of Music (Philadelphia) with Leon Fleisher, Claude Frank, Symour Lipkin, and Meng-Chieh Liu, and the Yale School of Music (New Haven) with Peter Frankl. Chu's artistic development was also influenced by many other musicians, some important mentors including Richard Goode, Kim Kashkashian, Menahem Pressler, Richard Stoltzman, Fou Ts'ong, Donald Weilerstein, and Madame Zhou Guangren.
---
Teaching Dates: July 8 - 12, 2024