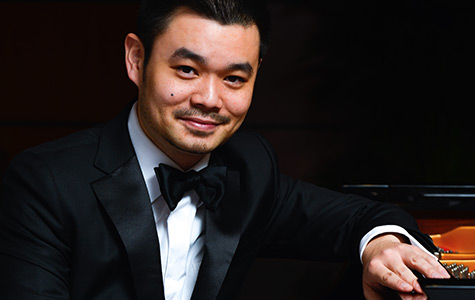 Jay Peng Chieh Sun
Xinghai Conservatory of Music, Guangzhou, Morningside Music Bridge Advisory Council
Born in Taiwan, raised and educated in the United States, and now in his thirties, Jay Pengjie Sun has firmly established himself as one of the young pillars of the Chinese musical community. Since joining the faculty of China's prestigious Xinghai Conservatory, he has become a much sought after pianist and pedagogue, with concerts and lectures in every major Chinese city and his students having taken prizes at every important national competition as well as the Junior International Mozart and Junior International Chopin Competitions. He is currently co-chair of the piano department of the Xinghai Conservatory Middle School in Guangzhou. He is also on the Morningside Music Bridge Advisory Council.
Since moving to China in 2005, Sun has made a concerted effort to educate Chinese audiences with his trademark thematic recitals during which he weaves a narrative linking one work to the next, engaging audiences in the context and content of the music and enabling them to have a deeper understanding of masterworks with which they might not otherwise connect. Recent concert tours of China have included Liszt: The Complete Transcendental Etudes which the Beijing Music Weekly described as "a ferocious yet poetically delicate execution of a marvelously stunning feat", A Stroll through Music History which Yamaha Artists China proclaimed, "powerful, sensitive, masculine, feminine, angelic, demonic -- a one man show which will leave you educated and inspired" and Zodiac Sonata, a program of twelve works by twelve composers representing the twelve signs of the zodiac, which Shenzhen News branded "a resounding triumph." In addition to his solo concerts, he is also an active member of the Xinghai Piano Trio, along with violinist Kaiya Ma and cellist Xin Yi.
Under the auspices of Yamaha China, Sun has given lectures and masterclasses throughout the country; out of these events has evolved a lecture titled The Fundamentals of Piano Technique, a course on the meticulous development of piano technique and its application to concert performance. The contents of this lecture are distilled from Jay Sun's studies with his mentor Horacio Gutierrez who in turn learned these methods from his teacher Sergei Tarnowsky, the primary teacher of Vladimir Horowitz. In the fall of 2014, this lecture was expanded into an eight hour teaching seminar focused on the training of young musicians from the ages of 4-12 and was recently designated by China's leading piano publication, Piano Artistry, as recommended curriculum for the professional training of young pianists. In 2016, Sun expanded his lecture series with Piano Artistry to explore in depth the special topics of memorization, practice efficiency and teaching psychology; this led to an invitation in 2017 from Music Weekly, China's leading music periodical, to write a weekly column chronicling his life and musings as a pianist and teacher.
Sun's principal teachers include Horacio Gutierrez, Nancy Weems and John Weems. He also credits several summers at the Aspen Music Festival with pianist Ann Schein as deeply influential to his development. In his formative years, he held a broad range of interests which led to his graduation from the University of Houston with a master degree in music and bachelor degree in computer science. He is regular guest faculty at Canada's Morningside Music Bridge Festival, Boston's Tanglewood Institute, England's Wells Cathedral Music School, Italy's Maccagno Piano Festival, New York's MRL International Piano Academy, and the Beijing Central Conservatory International Chamber Music Festival.
Jay Sun is a Yamaha Concert Artist and Brand Ambassador for the China region where he is regularly featured in print, radio and television promotions.
---
Teaching Dates: July 22 - 26, 2024